Colleges and universities have undergone many campus improvements to attract students and their parents in many ways to be competitive. This included student housing with student suites for two to five students with a shared bathroom, lounge area and kitchenette. In addition, each floor includes a lounge/game area for students to mingle and hang out besides the gym, library, and dining facilities. Libraries have been converted to study lounges where books were moved to the basement and the floors opened for students to meet, study, and collaborate. These are just a few examples where the new social distancing requirement due to the pandemic gets difficult to implement on campus besides in the lecture rooms that hold hundreds of students.
Every campus has to evaluate their operations before opening up again once the political leadership gives the go-ahead. Not only does a campus need to address the regulations imposed by the government but also the concerns of students, parents, faculty, and staff to live, study and play in proximity with each other. Some students and faculty might feel comfort in working/studying virtually and be reluctant to take a risk over physical presence and interaction. To gain the trust communication between all entities is the key as the best results are always thru a collaborative process.
Research has shown that students are most successful when highly connected with campus life. With the new generation Gen Z being more visually connected and socially distant than any prior generation this might shift. We will have to look towards the future if online programs can deliver the connectivity and success.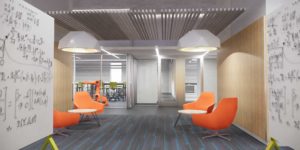 Each year parents and students have visited numerous campuses to select the right university/college often based on the experience gained thru this visit after researching all academic requirements. The first impression is still a big factor but now gained thru the campus' websites and virtual walkthroughs. In the past social media served as one impression of the college/university, now it is the only one. Understanding what platforms are visited and how people interact on them is extremely important. This year graduation was moved to online programs where students posted their pride on social media. Some colleges did recognize the value of physical presence and for example rented a drive-in movie theater where students could celebrate together while staying safely in their cars.
The college experience will change from what we have known as the health and safety of all students, faculty, staff and visitors is of most concern. To prepare for a return to the campus and a positive experience on campus the following items can be discussed and implemented:
SHORT TERM PLANNING
Sanitation: Before bringing any non-essential persons back to campus, all spaces need to be sanitized with approved cleaning agents to prevent spread of the virus.
• Objects that are constantly touched such as door handles, counter and table surfaces, computer keyboards, food trays, etc. must be wiped down regularly during occupation.
• Hand sanitizer stations should be conveniently provided throughout campus to encourage hand hygiene.
• Replacing duct filters and installing UV germicidal lights within HVAC systems will clean the circulated air and provide a healthy environment.
• Ensure that all plumbing has been sufficiently flushed to eliminate harmful water-bourne contaminates such as bacteria and heavy metals
• Installing signage in areas where student tend to gather can encourage them to use the stairs instead of elevators and avoid congregating inside. Periodic emails and postings on social media can reinforce these messages.
Occupancy and Distancing: Student housing, student centers, and lecture halls are "hot spots" that hold hundreds of students. These are areas of high-density congregation where social distancing requirements due to the pandemic become difficult to implement.
• Academically, managing in-person course scheduling and student-teacher ratios will help regulate occupancy to ensure social distancing.
• Non-occupiable seats should be clearly marked or removed to ensure a lower percentage of occupancy.
• Students should be encouraged to enter and exit the room thru clearly marked doorways to minimize proximity to others and move through the room in a circular pattern.
• Doors shall be kept open when possible and until automatic door openers can be installed.
• Student housing should not allow double occupancy. Suites with closed off bedrooms can be occupied, but sanitation and social distancing reminders need to be clearly marked in any shared spaces like lounges, kitchens, and bathrooms.
• Gang Toilet Rooms might have to limit the occupancy numbers and sinks need to be closed off to provide the required distance. Hand sanitizer stations and waste baskets shall be provided at the doorways.
• Study areas in libraries and lounges can spread seating six feet apart or provide plexiglass dividers.
• At service counters six-foot separation markers for waiting lines should be clearly identified on the floor or through barriers; in addition, Plexiglas shields provide separation.
• Encourage the use of stairs in lieu of elevators where possible. Depending on the size of the elevator the occupancy the occupancy number needs to be reduced to provide proper distancing. In addition, clearly marked waiting areas with separation markers on the floor will prevent crowding.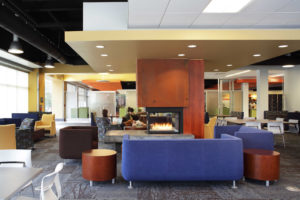 LONG TERM PLANNING
As we are going through uncertain times, we do not know how long it will take for a vaccine to be readily available and for COVID-19 to take its place alongside other illnesses we have conquered in the past. We also do not know when we will face the next threat of another new virus. Planning for aggressive, preventative measures that still allow for flexibility and a sense of normalcy is the best way forward. Listed below are important areas to address:
Sanitation: Utilizing multiple layers of disinfecting technologies is the most thorough way to create safe interior spaces.
• Encourage a culture where students are invested in the care of their physical environment and each other.
• Motion activated doors and sound activated devices for elevators are good additions to prevent the spread of germs.
• Hand sanitizing stations are already widely used. Installing additional hand washing sinks in recreation and food service spaces further support and reinforce cleanliness.
• UVC bacteria killing light is only safe to be used in unoccupied spaces. UVC lighting and other lighting technologies with disinfecting properties can be effective in certain areas. We are paying close attention to how this technology evolves because it may be instrumental in large-scale sanitation efforts.
• While using UV germicidal lights to clean air through ductwork is helpful, it is critical to increase fresh air and improve overall air circulation and turnover.
• Arranging parameters that limit the number of occupants might increase the hours facilities are being used. Allowing for downtime for cleaning will provide more opportunities to sanitize.
Construction: All new buildings should depart from current standards in anticipation of increased safety measures to combat contagious illnesses. Renovations should address safety improvements whenever possible. The following list details areas that should be taken into consideration:
• Wide corridors and stairwells in highly visible areas are important to minimize cross traffic.
• Elevators should be larger to allow for distancing within the cabs. Additional elevators could be added beyond the minimum required.
• Large lecture rooms should have more aisles to separate rows. Seats should be spaced farther apart. The number of entrances and exits should be increased beyond code requirements to prevent waiting lines and congestion as well as clearly mark entrances versus exits.
• Transaction counters should be long enough to encourage separation.
• Student housing should plan for single bedrooms with private baths.
• Lounge areas should be kept small to minimize large gatherings.
• Apartment-style suites can have bedroom doors located close to the entrance to decrease cross over into the common areas.
• Provide card access and automatic door openers to prevent touching door handles.
• Install hands free fixtures and keep space between sinks. Limit installation of doors into Gang Toilets where possible.
Materials: Finishes and furniture are important visual and tactile elements that can help keep people safe and protected.
• The use of different flooring patterns or colors give cues on distance requirements for waiting lines and circulation.
• High contact surfaces should have anti-microbial properties when possible.
• Visual dividers can be part of the casework and furniture systems and act as germ barriers.
• Movable partitions can separate seating areas in lounges and study spaces.
Guidelines: Spillman Farmer uses sustainable guidelines and the newest technology to ensure the wellbeing and safety of the users/occupants in all buildings we design. Listed below are some of the methods we practice.
• LEED certification promotes several tactics that enhance building cleanliness such as enhanced indoor air quality by reducing potentially contaminated particulates and the addition of showers in buildings.
• Certification programs like the WELL Building Standard and the Fitwel Healthy Building Certification focus on occupant wellness and can help implement measures to make spaces safer.
• Biophilic design also has a positive impact on humans and has shown to reduce stress levels.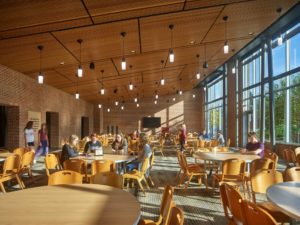 Some of these prevention measures are easy installs while others require more planning and funds. Conversations on what are the best options for each campus will set a strategy and clear path forward unique to each campus.
Architects and designers have always created interventions in response to public health crises. Our expertise in adapting spaces to make them healthier and safer makes us a valuable partner to schools that are seeking effective changes quickly. Spillman Farmer has provided collaborative design services with positive outcomes for hundreds of schools, colleges, and universities. We are here to guide and support our education clients during this unprecedented time.