As we are experiencing one of the worst pandemics in the current history of humankind, we acknowledge that the way we used to work will have to change or the pandemic will spread and occur again. No one at this point can predict the future of the virus and, but with what we do know, we can plan our responses. We at Spillman Farmer Architects are exploring strategies to prepare a healthy environment for the workforce to return and occupy the office spaces again.
While a lot of people enjoy working from home it can put extra stress on the individual when suddenly faced with other family members working and studying from home. Perhaps some people will continue to work from home in the future while others look forward to going back to a collaborative and stimulating environment, or perhaps, choose a combination of time at home and in the office. Either way, we must review how our offices were setup and how we can improve them to make everybody feel comfortable to enter the space again. The wellbeing of every human is the priority and needs to be considered when evaluating the existing office design as well as new layouts.
Looking back over 20 years ago and more, most offices were designed as enclosed spaces along corridors with minimal interaction among employees. This later transitioned to the opposite trend of opening the office spaces to an Open Plan. Full height fixed walls that traditionally separated people were removed, and the partial height workstations moved in. Over the last 5 to 10 years although this concept has still been widely used, and designers have begun to integrate Huddle Rooms, Break Out Rooms, Cafes, Game Areas and many other spaces to give workers a quiet moment or a separate place to meet with others to brainstorm or recharge. While most offices still have large areas of open spaces with workstations and communal areas, the transmission of a virus is a major risk.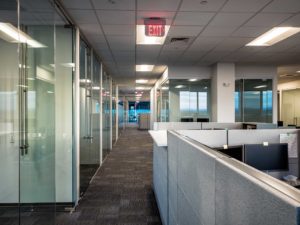 Before bringing people back to the office the entire space needs to undergo a thorough cleaning and sanitizing process. All surfaces should be wiped down with disinfectants. Now is a good time to replace all filters at ductwork with MERV 13 filters. Installing bacteria-eliminating UV lights will also help in the sanitation process.
Installing signage to remind everybody that the space is a hands-free space (no handshakes) and placing hand sanitizing stations in highly visible locations is a good measure to enforce compliance. Employers can give out small hand sanitizer bottles to be used when having to open doors, touching appliances, etc.
When returning to work we have to prepare our workspace to adhere to the newest guidelines from the state and federal governments to ensure the well-being of all employees. Reconfiguring office layouts to accommodate 6 feet separations while employees are seated at their workstation/offices and maneuvering through the space is vital. Eliminate people moving in 'fishbowl' disarray and replace with circular traffic patterns to ensure safe travel with no cross interference. Guest chairs at desks should be removed to prohibit people from sitting closely together, as well as keeping aisles as wide as possible. The new, singular traffic pattern can be marked with visual wayfinding cues, such as, directional arrows, green and red indicators, or perhaps colored carpet tiles. The separation of workstations can be taped off or marked through the use of different colored carpet tiles designed to maintain a professional and aesthetic image. If workstations are arranged too tight for the 6' separation, dividers can be installed between the workstations, or employees can work in shifts where every other workstation is occupied throughout the day.
Conference Rooms need to be used on a limited basis and employees shall be encouraged to use virtual meetings. In conference rooms, reduce the number of chairs by half and place remaining chairs 6 feet apart. The separation can be marked on the floor, or by adding placemats or other visuals on the table. Hand sanitizer stations should be placed in very visible locations to remind everybody of constant hygiene. Cleaning supplies to wipe down seats, tables, remote controllers, and speaker phones should be easily accessible.
Preventing gatherings at the copier or in the kitchen, especially around lunchtime can be a challenge. Display signage in the area indicating expectations of limited, shortened usage, and a "next-in-line" area marked by signage, taped floor, or accent carpet tiles. After each use, all surfaces need to be wiped down.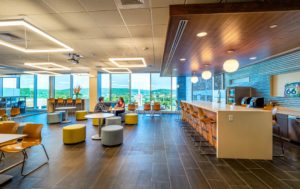 Technology can be a large and useful component for all spaces. The implementation of motion and voice activation sensors to open our doors, get us to the floor we need to arrive on, or turn on computers is something we will see incorporated more over the next years. Perhaps in the near future, technology will be able to control the microwave, open refrigerators, and operate the conference room projector from simple integrated controls on your own phone. UV light can disinfect every surface it shines upon, so we enter a thoroughly cleaned environment every morning.
Using the available technology and a few design measures will prevent us from going back to rows of high partitioned work cubicles and allow us to interact and collaborate. Most importantly employees need to feel safe and well to be productive. Communication between the employer and the employee ensures we remove anxiety and create an environment that everybody wants to come back to.
As we get more familiar with the changes to come, we will also get more knowledgeable and comfortable with it. In the meantime, it is important to not only invest in workplace health security but also encourage patience for each other as we all adapt. The client's wellness is consistently integrated into the design through proper lighting, daylighting, material selections, and proper air infiltration. The added component of social distancing and protecting our workspace environments can be easily and seamlessly integrated. These adjustments do not necessarily equal large financial investments. Rather, the focus should be on the wellbeing of everyone and improving our workspaces to encourage comfortability when entering the workspace again.
Commercial
A well-designed workplace can dramatically improve business. Our designers collaborate with clients across all markets to understand the dynamics of each workplace to create human-focused environments that function for today and will adapt to tomorrow.
Learn more
Spillman Farmer Architects has always focused on our client's specific programming. Our clients look to us for both pragmatic experience in office design and project success through a holistic approach. We are continuing to integrate wellness with practical needs such as flow of space, human interaction, and the aesthetics of their space.
Keywords: