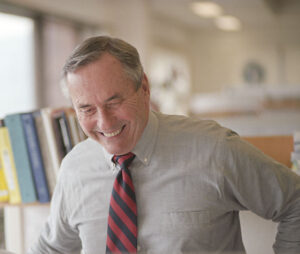 Our firm is saddened to announce the passing of Charles Shoemaker, former Principal of Spillman Farmer Architects (SFA). Charlie passed away on January 7, 2021. We and the architectural community have lost a great leader and mentor.
Charlie was raised in the Indianapolis, Indiana area.  He studied civil engineering at Northwestern University and received his BA in Architecture from the University of Illinois Urbana-Champaign in 1957. After his graduation, he joined the US Navy.  While stationed at Pearl Harbor, he met his wife Gail, who is from the Lehigh Valley.  Charlie and Gail returned to the Lehigh Valley to start their family.  Charlie worked for Wolf Hahn Architects until he joined Robert Spillman and Thomas Farmer in 1970. He became a principal shortly thereafter and the firm was renamed Spillman, Farmer, Shoemaker, Pell & Whildin Architects. Charlie was very active in the architectural community. He was the chairman of the Bethlehem Code of Appeals Board, chairman of the National AIA Contract Documents Committee, and an active member with the Allentown Rotary Club. He provided mentorship, inspiration, and incisive commentary to generations of designers at Spillman Farmer Architects and the local AIA community.
Charlie was especially proud of his design of the high-rise bank building at One Bethlehem Plaza in Bethlehem, home of the firm's office for 35 years.  He always pointed out to the young architects the many construction details that made the building extremely efficient.  He influenced the design of many schools and commercial buildings in the Lehigh Valley and beyond during his successful career.
In the office, Charlie was a great mentor to his colleagues and was always ready to share his knowledge about design, details, and codes.  He also knew how important it is to keep the big picture in mind.  Charlie had many short, one-line sayings that kept the firm amused, including "this is like doing brain surgery on a fingernail" if something was overdone.
Charlie retired from SFA in 2011.  During his retirement, Charlie visited the office regularly to attend Lunch & Learn presentations and to assist where needed.  He enjoyed gaining more knowledge and discussing new ideas with his colleagues.
Charlie kept his love of water and spent many hours sailing his lightning sailboat on Lake Nockamixon.  He also kept his love for Gail and Hawaii, where they both vacationed regularly.
Charlie will be sorely missed at Spillman Farmer Architects and by the architectural community.