To kick off the holiday season, SFA worked with volunteers at Payrow Plaza to construct the city's inaugural Christmas City Trellis. The idea was envisioned by SFA in response to the Citizens Christmas City Committee challenge, "Will you be able to raise money to support the purchase of energy efficient, pre-strung, artificial Christmas trees?" The Trellis project will do just that, by displaying and selling ornaments as part of a new, annual holiday attraction.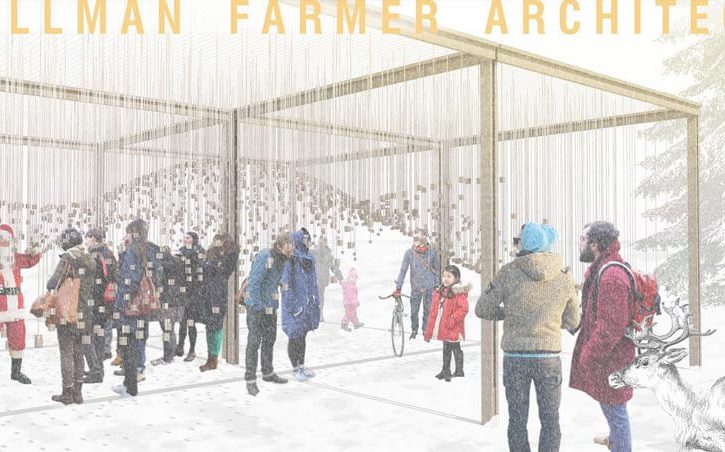 The Trellis is made of three major components: the frame, the chimes, and the personalized ornaments. Each year a different artist will design the ornaments and presentation to encourage renewed donations. To accommodate this arrangement, the frame is modular so future installations can grow and vary as desired. The 2015 ornaments are inspired by fusing the shapes and characteristics of two familiar holiday symbols: a star and a candle.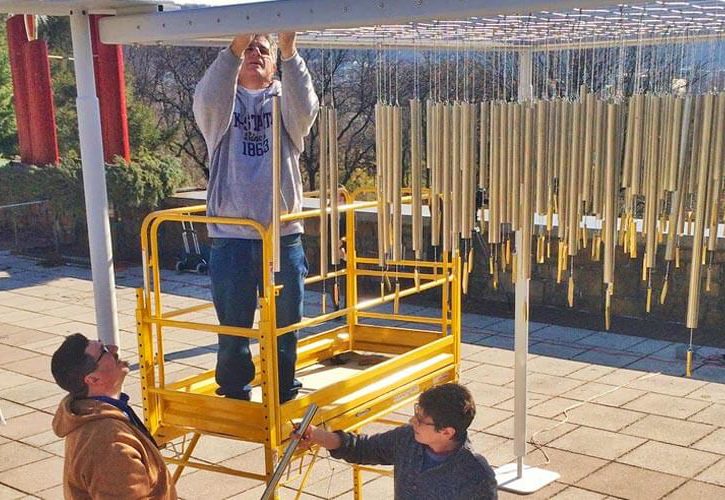 The team decided an acoustic installation best resonated with the brief because the sound serves as another layer of ornamentation. Of course, an important consideration for chimes is that they need to be musical. Salvatore Verrastro, a principal at SFA explains, "We didn't want the Trellis chimes to make noise; we wanted it to create and build harmony. A significant amount of research went into how we could specifically design each of the chimes to sound a note within a complex chord. If the wind plays the chimes, the notes will sound intentional, and visitors can experiment with the chimes to create a song."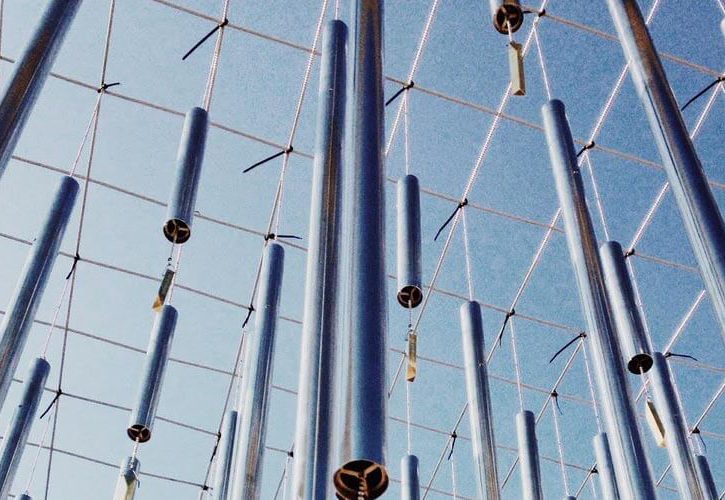 The Trellis was unveiled during the Bethlehem Christmas Tree Lighting Ceremony. Of course, you're all invited to visit until January 10th. Big shout out to everyone involved from SFA including Christie, Elliot, Vanessa, Dan Silberman, Clint, and Sal!
Air Products and Chemicals, Inc.
Bethlehem Chamber of Commerce
Brey Krause
Citizens Christmas City Committee
City of Bethlehem
Szoke Brothers, Inc.
Waitz Corporation
Public Spaces
Designing a space isn't just about how it looks, but how it works. Successful placemaking brings people together to share ideas, inspire creativity and innovation, and encourage intellectual, political, and social discourse. It creates and strengthens connections between users and their communities, and it instills (or renews) feelings of value and pride about a space.
Learn more
Thank you to all of our collaborators and partners who played an integral role in the success of the Trellis:
Keywords:
Joseph Biondo, FAIA
Spillman Farmer Design Principal Joseph N. Biondo was born in Bethlehem, Pennsylvania and graduated from the Kansas State University College of Architecture, Planning and Design. Shortly after graduation, he pursued a lengthy career with Bohlin Cywinski Jackson Architects, where he worked closely with AIA Gold Medal recipient Peter Bohlin. In 1996, he established Joseph N. Biondo Architects, before joining Spillman Farmer Architects in 2003, where he is currently bringing design excellence to the forefront.
More articles by Joseph