It's rare that architects are able to experiment with architecture. It involves risk and the unknown, not anything a building should embrace. To do this usually means an architect needs to put skin in the game to realize their aspirations. In this evolving series, we will look at projects that try, and sometimes fail, to expand the boundaries of design for our cultural benefit.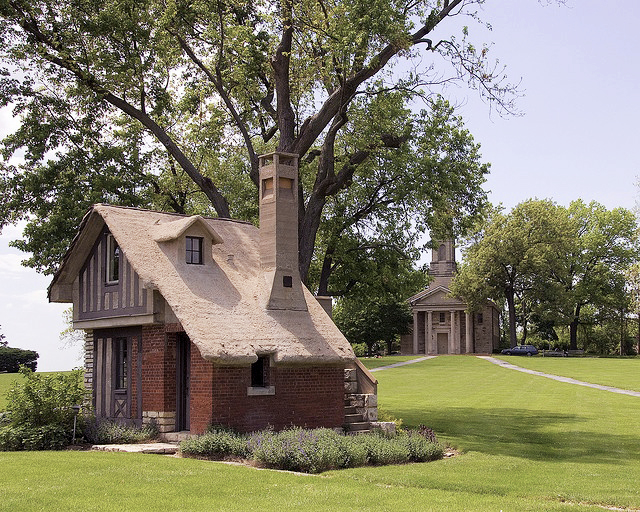 Bernard Maybeck climbs on top of what appears to be a thatched roof, actually made of sprayed cement, with a pail of chemicals and a paintbrush. The solutions he carries have been mixed by the chemistry teacher from Principia College, where this experiment in architecture is taking place. Maybeck surveys the roof and daubs the wash in appropriate places, aging the appearance.
Maybeck conceives this project as the Sample House, but the workers refer to it as the Mistake House and now so does everyone. Its purpose is to test all construction techniques before applying them to the rest of the campus. Maybeck has been highly experimental with his detailing in a great effort to make the building appear time-worn. Mortar is scraped deeply or left oozing out in places to compare effect; acid washes etch surfaces and oxidized stains accentuate detail to act out Maybeck's painterly vision. Simply, it is a proving ground for materials and processes and serves as a reference for the nuanced construction techniques while he is off site.
There is a serious philosophical underpinning to Maybeck's rustic experimentation. He hints in writing to his assistant Edward Hussey, "We are to make a College City of homey homes instead of stereotyped jails from which to turn out individuals instead of automatons…" (Robert M. Craig, Bernard Maybeck at Principia College (Salt Lake City: Gibbs Smith, 2004), 444).
Fundamentally, Maybeck understands a tenant of democracy to be the acceptance of individuality. He also believes that architecture can impart morality to inhabitants. These two ideas converge with his idiosyncratic detailing, a reminder of his upbringing in the Arts and Crafts movement. A campus, full of impressionable minds, is critically important to Maybeck. The Mistake House materializes a dense aspiration for teaching through architecture.
Historic Preservation
Spillman Farmer's team has decades of experience working with historic structures both on and off the National Register of Historic Places.
Learn more