Spillman Farmer Architects is thrilled to have two projects in the running for the prestigious 2012 building of the year award over at the American-Architects website. The Sigal Museum and The Artsquest Center are both in the running for top honors. We'd like to thank the clients and patrons of both projects for being committed to the built environment and making the effort to create lasting architecture.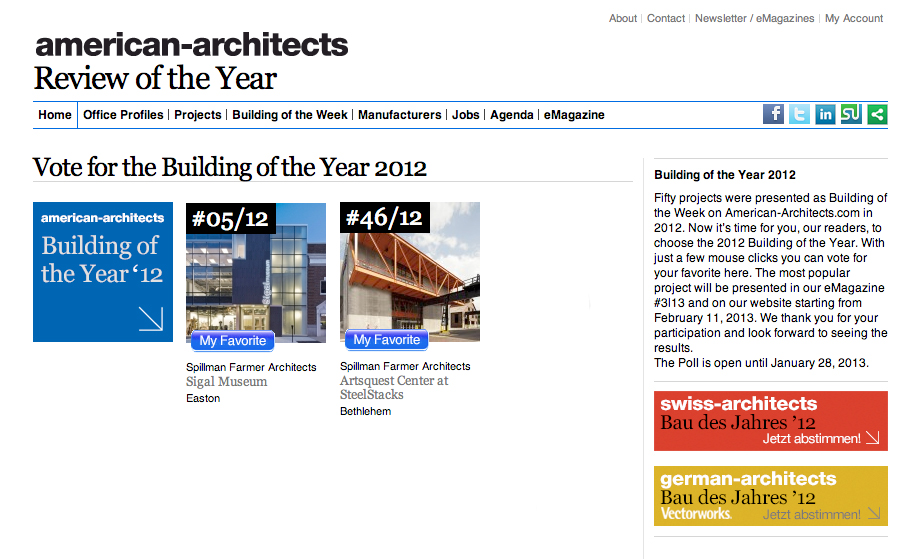 Vote for Sigal here:http://www.american-architects.com/en/projects/vote_review/34256/12/5
Vote for Artsquest here: http://www.american-architects.com/en/projects/vote_review/38869/12/46

See all 50 projects here: http://www.american-architects.com/en/projects/voting/41/12


Excerpt from the American-Architects website:
"Fifty projects were presented as Building of the Week on American-Architects.com in 2012. Now it's time for you, our readers, to choose the 2012 Building of the Year. With just a few mouse clicks you can vote for your favorite here. The most popular project will be presented in our eMagazine #3|13 and on our website starting from February 11, 2013. We thank you for your participation and look forward to seeing the results."
"The Poll is open until January 28, 2013"
"Founded 1994 by Zurich-based PSA Publishers, world-architects.com utilizes a network of editors, critics, and designers at home and in all of the countries for which national pages are maintained. Via the linking of the different disciplines and countries to one another, a reference work has been produced in which thousands of buildings by established and emerging offices can be searched according to themes or regions."
Commercial
A well-designed workplace can dramatically improve business. Our designers collaborate with clients across all markets to understand the dynamics of each workplace to create human-focused environments that function for today and will adapt to tomorrow.
Learn more
Building of the Year 2012